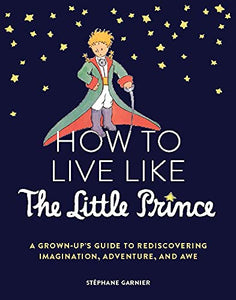 How to Live Like the Little Prince: A Grown-Up's Guide to Rediscovering Imagination, Adventure, and Awe Hardcover – April 12, 2022
Regular price
$19.95
$0.00
Unit price
per
How to Live Like the Little Prince: A Grown-Up's Guide to Rediscovering Imagination, Adventure, and Awe Hardcover – April 12, 2022
"All grown-ups were once children... but only a few of them remember it."
–Antoine St. Exupéry, The Little Prince

Few books have been as universally cherished as Antione St. Exupéry's The Little Prince. First published in 1943 and now one of the bestselling books of all time, the haunting, lyrical fable explores the meaning of life through a young boy who travels the universe in search of happiness.

In How to Live Like the Little Prince, Stéphane Garnier revisits St. Exupér's story with a fresh, contemporary eye, urging us—as the Little Prince did—to preserve our childlike wonder by slowing down, dreaming big, and showing humble kindness to our planet and one another. In each chapter, Garnier beautifully conjures the expressive wisdom of St. Exupéry's storytelling, reminding us of essential lessons like how to be rebellious and incorruptible, how to leave your mark on the world, how to be free from the judgment of others, and how to let go and be alone.

Featuring the iconic original illustrations from The Little Prince alongside memorable quotations and thought-provoking ideas about how we can apply St. Exupéry's philosophies to the increasingly complex demands of modern life, Garnier offers a stirring guide to rediscovering what matters most—at any age.


DETAILS
---
Share this Product
---