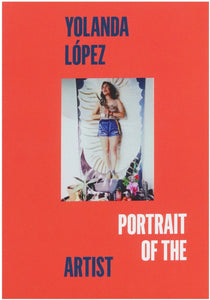 Yolanda López: Portrait of the Artist | Exhibition Catalog
Regular price
$25.00
$0.00
Unit price
per
Portrait of the Artist is the first solo museum presentation of the work of Yolanda López (1942-2021), the pathbreaking Chicana artist and activist whose career in California spanned five decades. The exhibition presents a compendium of López's work from the 1970s and 1980s, when she created an influential body of paintings, drawings, and collages that investigate and reimagine representations of women within Chicano/a/x culture and society at large.
In her best-known work, Portrait of the Artist as the Virgin of Guadalupe (1978), Yolanda López (1942-2021) depicts herself wearing running shoes and the Virgin Mary's star-patterned mantle, an embodiment of physical agency and defiant joy. One of the most iconic artworks to emerge from the Chicano Movement, López's anthemic Portrait challenges the colonial and patriarchal origins of the Guadalupe iconography, transforming the symbol into one of revolutionary feminist optimism. As an image of self-determination, it is as much a collective portrait as it is an individual one. López would use herself, her mother, and her grandmother as models in a number of conceptual drawing projects during in the 1970s, bringing visibility to women of distinct roles and life stages through strikingly unsentimental, larger-than-life portraits.
Yolanda López: Portrait of the Artist brings together approximately 50 works in oil pastel, charcoal, collage, photography, and paint, centering on the artist's Guadalupe triptych and an expansive series of related works. The exhibition examines López's profound influence as a feminist artist and activist whose works are characterized by their analysis, indelible imagery, and wit.
---
Share this Product
---