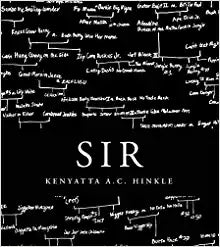 SIR by Kenyatta A.C. Hinkle | Exclusively signed for SJMA
Regular price
$45.00
$0.00
Unit price
per
"Every time I go into the grocery store and call your bother's name, all the white men turn around as if I am addressing them and I tell them, "No, I am talking to my son." - Deila Reneese Hinkle
Exclusively signed for the San José Museum of Art, SIR intertwines the geographical and historical implications of race relations Louisville, KY from the late 1800s to present day.  Through this lens, Hinkle meditates on motherhood, the Black male body and contextualizing geographies in relationship to her brother, an African-American man whose first name is Sir.  
Hinkle's mother named her brother Sir so that everybody would have to address him with the title of respect regardless of the power relationship he would encounter as a Black man living in a turbulent and racial liminal Kentucky.  
SIR is a means to interrogate and uncover the following: the efficacy of naming and its position within the African Diaspora, intersections of selfhood and cultural belonging, constructions of gender and race, and complicated layers of social geography and family history.
Details
Softcover
Print Length: 

185 pages

Dimensions:  8 x 0.75 x 9 inches
ISBN:  

9781933959382

Publisher: 

Publisher:  

Litmus Press
Signed Copy by Artist and Author, Kenyatta A.C. Hinkle 
*Free economy shipping
---
Share this Product
---